Where Integrity Meets Commitment & Expertise
Certified • Government-Approved • Instruction • Assessment • Training • Experienced • Skilled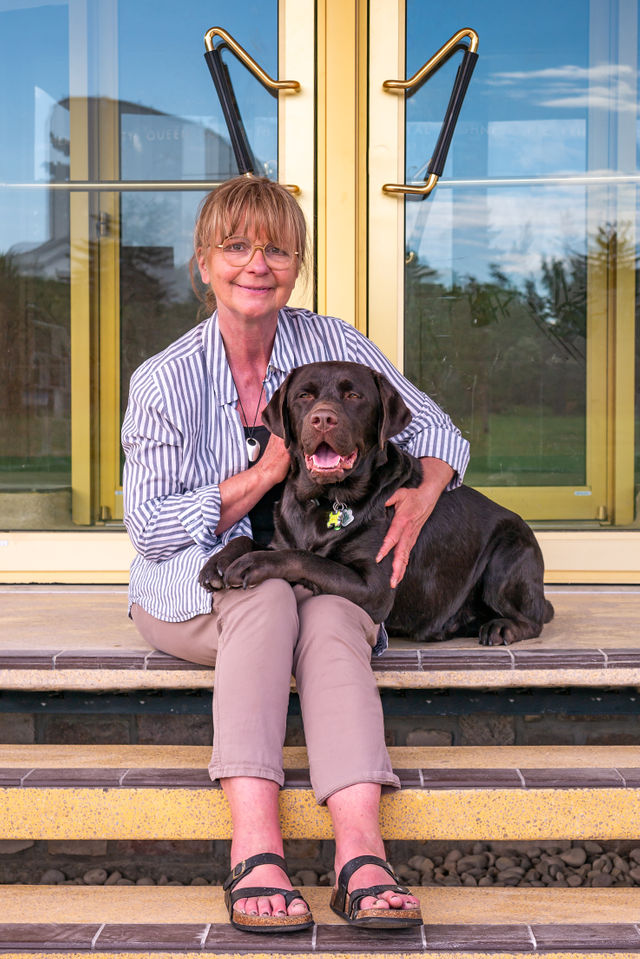 Maria Illes
Co-Owner, Chief Trainer & Program Director
There is an incredible fortitude and skill required to train canines to be of service to a person in need. Maria Illes, Certified Guide & Service Dog Instructor, has over 25 year's experience teaching dogs to give their best. Service Dogs, under Maria's instruction, receive the expertise in training she has developed over a lifetime. Maria has trained, certified, and placed over 300 Service Dogs with their human partners; lasting, life-changing partnerships have been created for the people in need and their Service Dogs.
Certification for Guide Dog Instruction received in Slovakia and certification for Service Dog Instruction received in America, Maria has worked in Canada since 1999 training many canines to be Service Dogs. Maria worked as Director of Training at a service dog organization for 18 years. As a government-approved Assessor and co-owner, Chief Trainer & Program Director at Aspen Service Dogs, Maria has the know-how, experience, and wisdom to know when a dog is ready to be fully of service.
---
"Not all dogs have what it takes to be a Service Dog, but those that do are my greatest inspiration. Together, that dog and its trainer get to change the life of the recipient in wonderful ways. It's truly a win-win."
— Maria Illes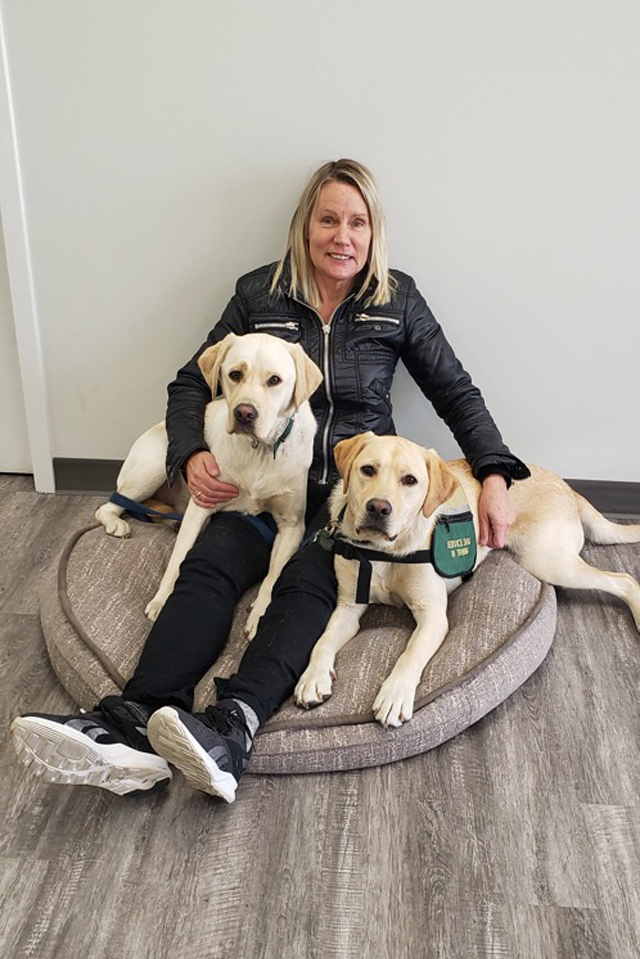 Maureen MacKay
Co-Owner and Chief Executive Officer
Co-owner and CEO of Aspen Service Dogs, Maureen MacKay has been an active member of Edmonton's business community for decades. An entrepreneur known for her integrity and business acumen, Maureen is a stalwart advocate of Service Dogs. Maureen has provided basic training and a loving home as a Puppy Raiser. Her love of animals has her volunteering at the Edmonton Humane Society, and Scars.
---
"Having fostered a Service Dog in training, I found myself in awe of the ability of the dogs and the incredible relationship they have with their human partner. I have family members with disabilities who's lives have been changed immeasurably by their Service Dog."
— Maureen MacKay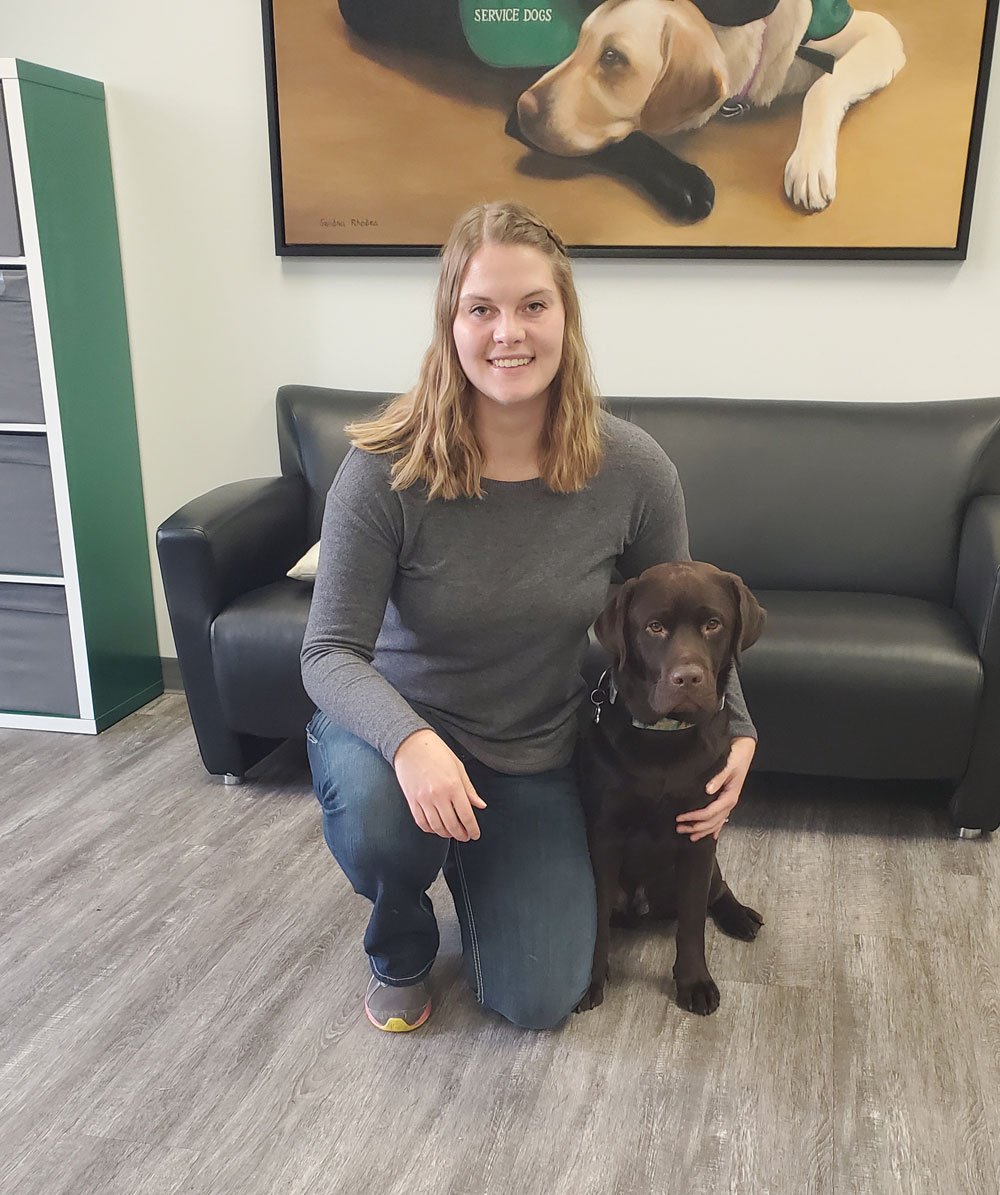 Tianna Ripmeester
Office Manager and Health Coordinator
Tianna grew up on a farm in southern Alberta, where her love for animals began. She recently graduated from the University of Alberta with a degree in Animal Science. Tianna's experiences and education have increased her passion for animal behaviour and training, and she is very excited to be a part of the Aspen Service Dogs Team and the Service Dog industry.
---
"I am extremely honoured to work for Aspen, and to be a small part of the journey in training a service dog. I love these dogs and I am excited to see who they get to serve and care for in the future."
Our Trainers
Edmonton • Calgary • Medicine Hat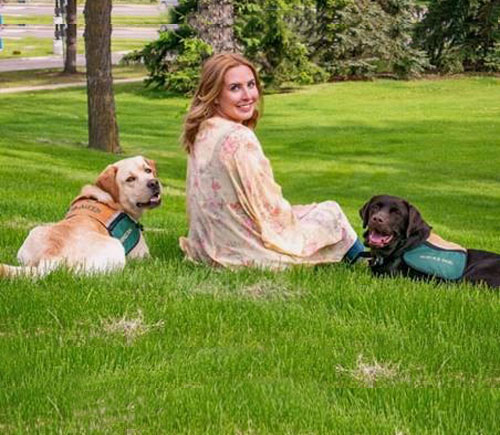 Alyssa Spencer – EDMONTON
Trainer
A recent graduate from the University of Alberta's Faculty of Kinesiology Alyssa Spencer, is a dedicated advocate for disability rights and service dogs in Canada. Alyssa has been with Aspen Service Dogs since 2018 and has provided a loving foster home for four dogs through Aspen Service Dogs thus far. She is now working under Maria Illes to learn the tricks of the trade!
---
"It is an honour to be part of training service animals with Aspen Service Dogs. Seeing them flourish from young puppies to working dogs is an incredibly rewarding experience. My favorite part of training these dogs is watching the bond grow between dog and handler; it is like no other love I have ever seen!"
— Alyssa Spencer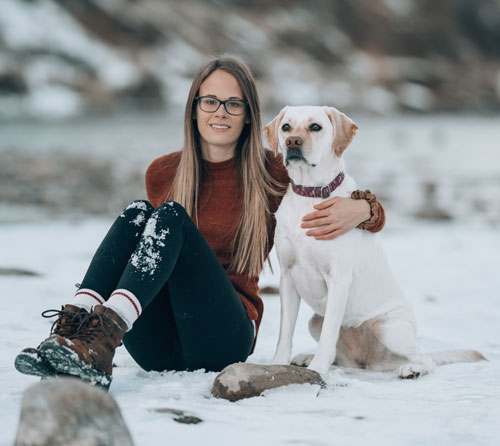 Stephanie White – CALGARY
Trainer
Stephanie is a registered nurse at the Alberta Children's Hospital. When she isn't at work, you can find her adventuring and competing in dog sports with her own dog. She first joined Aspen Service Dogs over 2 years ago as a Puppy Raiser to make a difference in someone else's life and to fill her love for training dogs.
Stephanie is our lead trainer in Calgary and loves seeing the progress service dog teams make and the independence they promote.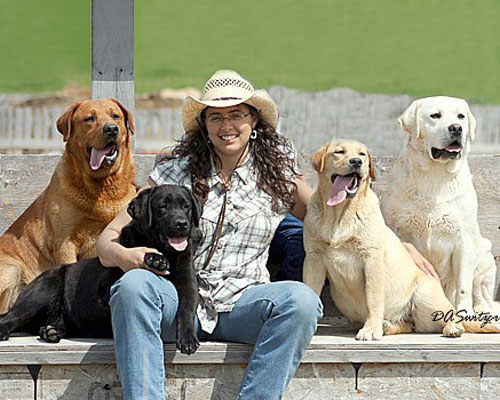 Nathalie Gillespie – MEDICINE HAT
Trainer
Nathalie grew up in the company of dogs and horses and they have remained a huge part of her life. Nathalie has been involved with dogs from a professional standpoint since her early twenties and along with her husband and kids has been raising, training and showing Labradors for 15 years. While the service dog industry is something Nathalie is learning; the relationship, the partnership and the love for an animal has been long ingrained in her blood.
---
"It is truly an honor to be a part of Aspen Service Dogs and to have the opportunity to help create the magic of a partnership that can withstand the challenge."
— Nathalie Gillepsie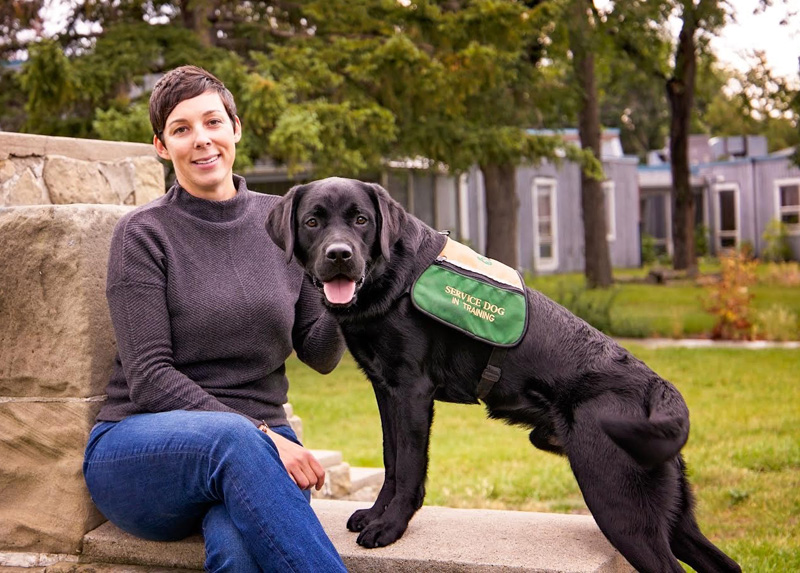 Tamara Champagne – CALGARY
Trainer
Tamara has been involved with dogs for 20+ years, training and competing in a variety of sports with her own dogs at the highest levels. She has a passion for obedience and scent detection, and is a scent detection judge in two organizations. Tamara joined Aspen Service Dogs as a Puppy Raiser and immediately resonated with the Aspen team and their work. While the service dog industry is new to Tamara, her background in dog training, and quality management brings structure and attention to detail when training and coaching the Aspen Service Dogs and their human partners.
---
"It's truly remarkable what these dogs are capable of, and I'm so honored to be part of the Aspen Service Dog Team. It is very fulfilling to see the dogs and their families progress through training, and I'm excited to work along-side the other Aspen trainers and continue learning."
— Tamara Champagne