Where Integrity Meets Commitment & Expertise
Certified • Government-Approved • Instruction • Assessment • Training • Experienced • Skilled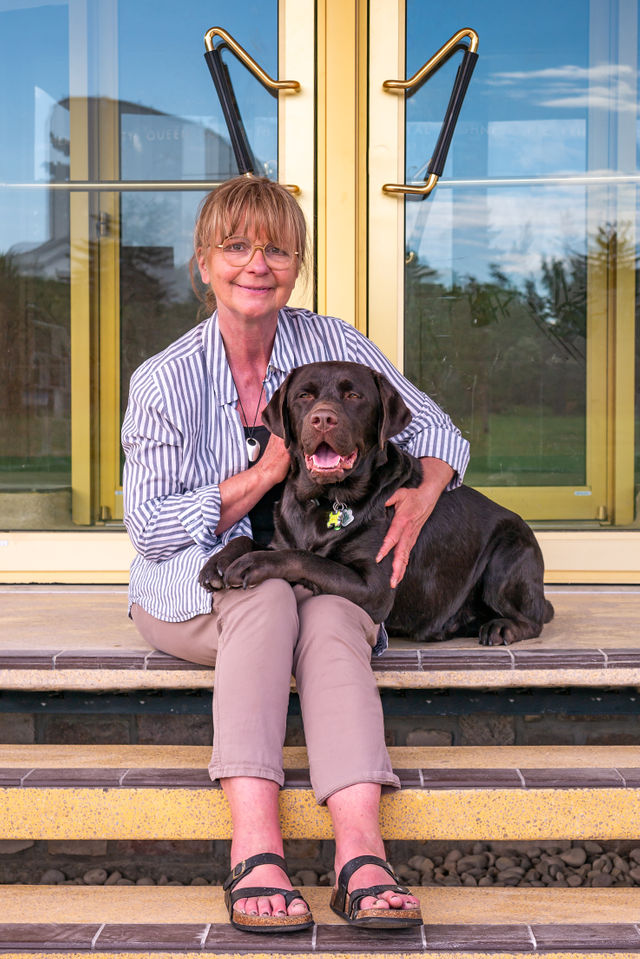 Maria Illes
Co-Owner, Chief Trainer & Program Director
There is an incredible fortitude and skill required to train canines to be of service to a person in need. Maria Illes, Certified Guide & Service Dog Instructor, has over 25 year's experience teaching dogs to give their best. Service Dogs, under Maria's instruction, receive the expertise in training she has developed over a lifetime. Maria has trained, certified, and placed over 300 Service Dogs with their human partners; lasting, life-changing partnerships have been created for the people in need and their Service Dogs.
Certification for Guide Dog Instruction received in Slovakia and certification for Service Dog Instruction received in America, Maria has worked in Canada since 1999 training many canines to be Service Dogs. Maria worked as Director of Training at a service dog organization for 18 years. As a government-approved Assessor and co-owner, Chief Trainer & Program Director at Aspen Service Dogs, Maria has the know-how, experience, and wisdom to know when a dog is ready to be fully of service.
---
"Not all dogs have what it takes to be a Service Dog, but those that do are my greatest inspiration. Together, that dog and its trainer get to change the life of the recipient in wonderful ways. It's truly a win-win."
— Maria Illes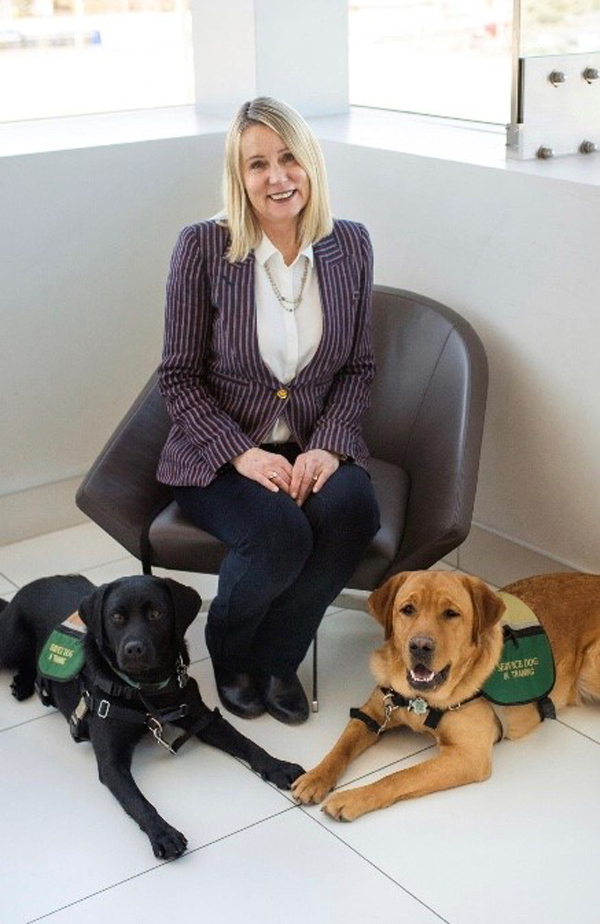 Maureen MacKay
Co-Owner and Chief Executive Officer
Co-owner and CEO of Aspen Service Dogs, Maureen MacKay has been an active member of Edmonton's business community for decades. An entrepreneur known for her integrity and business acumen, Maureen is a stalwart advocate of Service Dogs. Maureen has provided basic training and a loving home as a Puppy Raiser. Her love of animals has her volunteering at the Edmonton Humane Society, and Scars.
---
"Having fostered a Service Dog in training, I found myself in awe of the ability of the dogs and the incredible relationship they have with their human partner. I have family members with disabilities who's lives have been changed immeasurably by their Service Dog."
— Maureen MacKay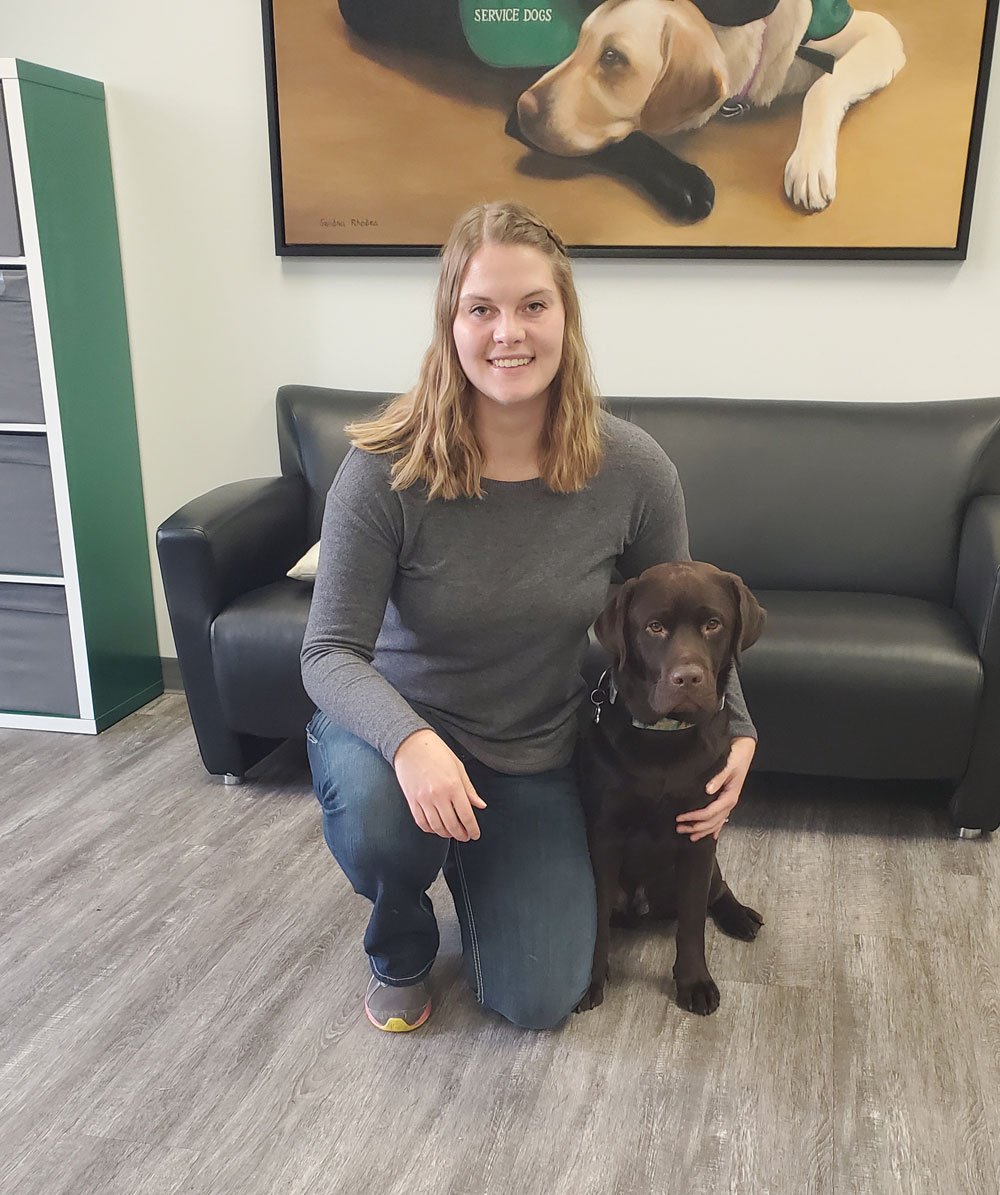 Tianna Ripmeester
Office Manager and Health Coordinator
Tianna grew up on a farm in southern Alberta, where her love for animals began. She recently graduated from the University of Alberta with a degree in Animal Science. Tianna's experiences and education have increased her passion for animal behaviour and training, and she is very excited to be a part of the Aspen Service Dogs Team and the Service Dog industry.
---
"I am extremely honoured to work for Aspen, and to be a small part of the journey in training a service dog. I love these dogs and I am excited to see who they get to serve and care for in the future."
Our Trainers
Edmonton • Calgary • Medicine Hat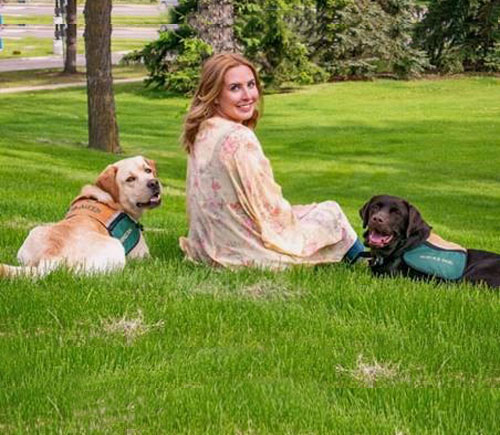 Alyssa Spencer – EDMONTON
Apprentice Instructor
A recent graduate from the University of Alberta's Faculty of Kinesiology Alyssa Spencer, is a dedicated advocate for disability rights and service dogs in Canada. Alyssa has been with Aspen Service Dogs since 2018 and has provided a loving foster home for four dogs through Aspen Service Dogs thus far. She is now working under Maria Illes to learn the tricks of the trade!
---
"It is an honour to be part of training service animals with Aspen Service Dogs. Seeing them flourish from young puppies to working dogs is an incredibly rewarding experience. My favorite part of training these dogs is watching the bond grow between dog and handler; it is like no other love I have ever seen!"
— Alyssa Spencer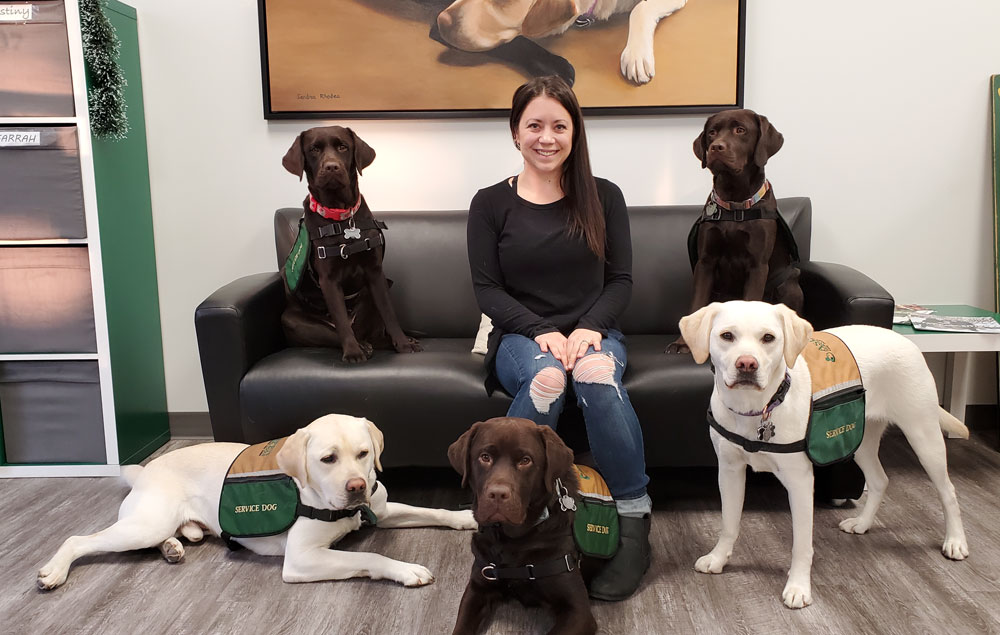 Ashley Holowaychuk – EDMONTON
Apprentice Instructor
Ashley grew up surrounded by dogs, training alongside her dad in a small Alberta town. Since she was a little girl, she has had a passion for training dogs and helping others. She is also a mom, who was able to provide support to her family by training her daughter's service dog, Ella. Today, she is a short-term boarder, and is proud member of the Aspen Service Dogs Team and she is very excited to learn from the best, Maria Illes.
---
"I love working with these dogs. I love that what I am doing with them is going to help someone with a disability. I am passionate about caring for people with special needs, and I am so excited to continue doing that through service dog training."
— Ashley Holowaychuk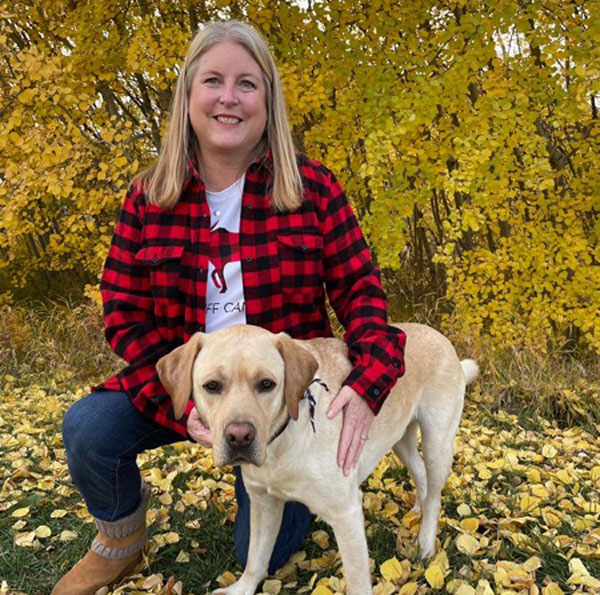 Lynne Spencer – EDMONTON
Trainer
Lynne is a teacher with over 30 years of experience and currently teaches special needs students at a Jr. High school in Edmonton. She was introduced to Aspen Service Dogs, through a Facebook contact, in December 2018 when she was responding to a post looking for puppy raisers. On January 4th, 2019, Maria brought a chocolate lab named Ashton to her home and the whole family fell in love. Since then, Lynne and her family have gone on to raise three more puppies for Aspen Service Dogs. She continues to puppy raise and brings the pups to school with her every day. The staff and students adore the dogs and they have made an immense difference in the mental health of everyone at the school. Lynne loves teaching puppy classes as well as getting to know everyone who is a part of the Aspen Service Dog Family!
---
"It is amazing to see the impact these service dogs in training have from the very first time they come to school with me! Every day I watch magic happen and it warms my heart."
— Lynne Spencer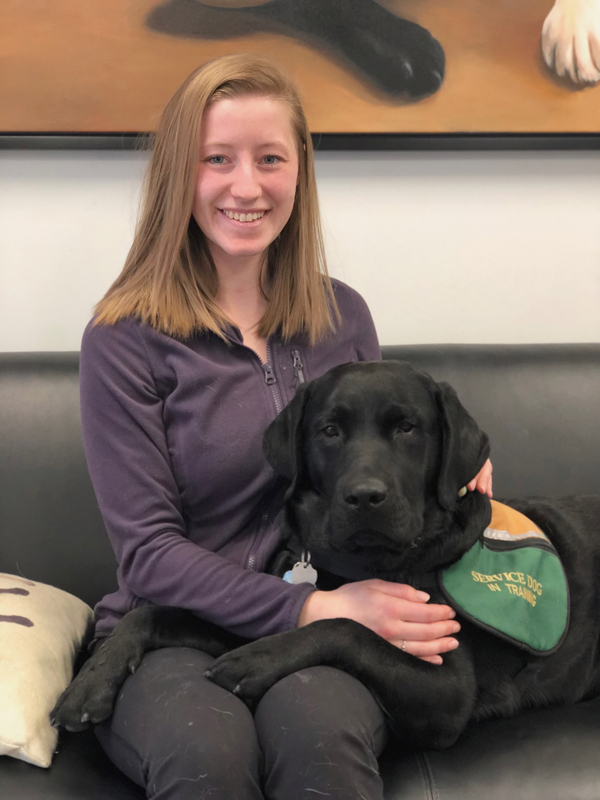 Jessica Gallant – EDMONTON
Trainer
Jessica grew up in a small Nova Scotian town where she spent many hours volunteering at her local SPCA. Ever since her family adopted their first dog, she began training and competing in several dog sports. Jessica is passionate about teaching dogs how to be of service because she cares very much about people dealing with various needs and wants them to be able to live their best quality of life. She is very excited to learn and expand her knowledge in this very important industry.
---
"A dog's loyalty is extraordinary and something to cherish. It is amazing how intelligent and capable these dogs are. They love having a job and aim to please. I am very fortunate to be a part of the Aspen Service Dogs team!"
— Jessica Gallant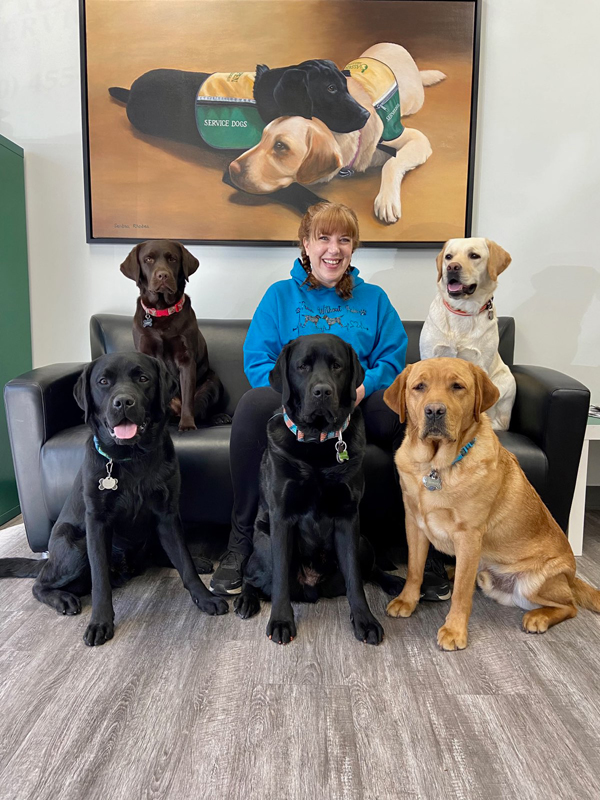 Tara Ferguson – EDMONTON
Trainer
Growing up, Tara always had an interest and compassion for all animals. She has been fortunate to have the company of dogs in her home, and has participated in Agility, Rally-O & nose-work. She has rehabilitated tough risk dogs through a rescue board and train program, and is a volunteer for Canine Search Rescue in which her & her dog were certified by the RCMP K-9. Tara has her force-free training certification and has taught group classes as well as private consultations to assist families with more complex dog behaviour issues. She continues her education and is passionate about employing only science based and force-free training methods.
---
"I am thrilled to be with the Aspen Service Dogs team & learning from the wisdom of Maria Illes! It is an amazing adventure to help these skilled pups find and reach their true potential. The bond created between these dogs and the person they watch out for is absolutely amazing."
— Tara Ferguson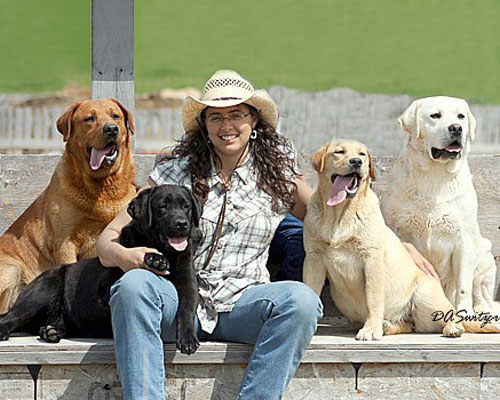 Nathalie Gillespie – MEDICINE HAT
Trainer
Nathalie grew up in the company of dogs and horses and they have remained a huge part of her life. Nathalie has been involved with dogs from a professional standpoint since her early twenties and along with her husband and kids has been raising, training and showing Labradors for 15 years. While the service dog industry is something Nathalie is learning; the relationship, the partnership and the love for an animal has been long ingrained in her blood.
---
"It is truly an honor to be a part of Aspen Service Dogs and to have the opportunity to help create the magic of a partnership that can withstand the challenge."
— Nathalie Gillepsie